The premiere investment – Platynowa Park
Our premiere project is the Platynowa Park investment. Surrounded by greenery, the intimate complex of two four-story residential buildings is being built in a dynamically-developing district of Gdansk, which is particularly popular among young people.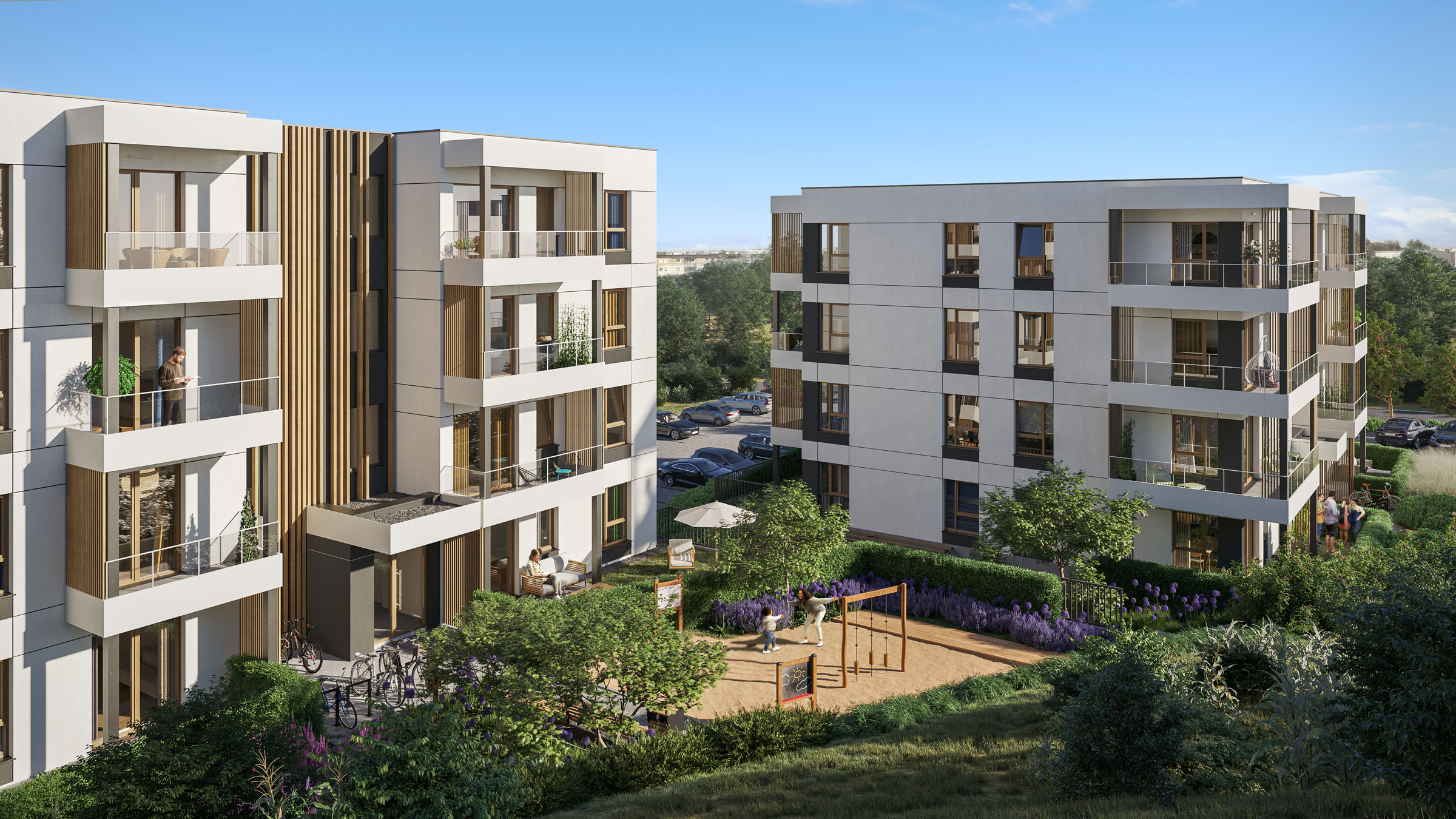 The offer includes functionally designed two- and three-room apartments of varying sizes, being the most sought-after by young families and people starting their careers. Large glazing will provide a view of the green surroundings and natural light to the rooms. Each apartment located on the first floor will be adjoined by a spacious balcony, while the larger three-room apartments will have corner balconies and light-filled kitchen annexes. Ground floor premises will be equipped with gardens. The investment will offer parking spaces in garage halls, including those equipped with charging sockets for electric cars, as well as above-ground spaces. It will also come with solutions that promote ecology, and outdoor activities amidst extensive greenery as well as building neighborly relations. Among those planned are a relaxation zone equipped with a gazebo accessible to residents, a flower meadow, bird feeders, rain gardens with hydrophytic plants, bicycle parking, a bicycle and scooter service point, and a playground.
One of the market hallmarks of the Platynowa Park investment will be ecology. In the course of its construction, we rely on solutions to reduce CO2 emissions into the atmosphere by as much as 60% and reduce waste by as much as 90%. It will serve as confirmation to customers that their building was built to the highest ecological and resource-efficient standards.
All of the 48 apartments included in Platynowa Park will be finished to a high turnkey standard, designed by the acclaimed Design Anatomy studio responsible for the development of, among other things, the award-winning office and leisure spaces at Olivia Centre. That's in response to the growing demand, according to which investors in the primary market are increasingly on the lookout for premises that are ready for immediate move-in, while at the same time providing high-quality finishing by the developer. This is also considered an essential argument for customers in a time of ever-increasing and unpredictable prices of finishing materials, as well as a shortage of renovation teams. Furthermore, residents will benefit greatly from being able to move into already-finished apartments. The overall project completion time is about 12 months. The apartments will be available in three different styles: Scandinavian (Scandi), Japanese (Japandi), and Modern (Modern). Three high levels of finishing standard will also be on offer, differing in the materials used.
K&M Design is behind the architectural design of the project, and award-winning Tri-City design studio Design Anatomy is responsible for the interior design.
– "The common factor of the apartments' individual design versions was the simplicity of forms, the selection of natural materials, and a subdued color palette. We intended to use the architecture of this development to create a sense of harmony and tranquility, which, combined with ecology, would influence its future residents. The three interior design styles we proposed: japandi, modern, and scandi are currently some of the most on-trend as well as timeless interior designs. They also all correspond to our vision of creating minimalist yet comfortable spaces," – says Anna Branicka, leading architect at Design Anatomy.
Platynowa Park is being developed in a modern and perfectly communicated neighborhood, with easy access to both downtown Gdansk and the Tri-City Bypass. In the future, at about 1km from the housing estate, there will be a planned railroad station, carried out as part of the PKM South project. At the same time, the immediate vicinity has a full infrastructure in the form of schools, kindergartens, stores, service outlets, and clinics. The vicinity of greenery, recreational areas, and the recently revitalized historic Orunia Park is yet another undeniable advantage of this location.
Our first residential development is being built with families and young professionals in mind, while the rapid development of the neighborhood and the revitalization of the historic park also make it an interesting option for investors planning to purchase rental properties.